Puppy Grows Toy | Baby Annabell Doll | Pink Nintendo DS Lite | Squawkers Talking Parrot | Smarter Than A 10 Year Old
Golden Balls Game | Transformers Bumble Bee | Flytech Insectoid Dragonfly | Dr Who Dalek Mask | Barbie MP3 Player
Amazing Lexie Talking Dog | Rose Petal Cottage | Bratz Movie Star Mansion | Gifts For Mum & Dad | Power Tour Guitar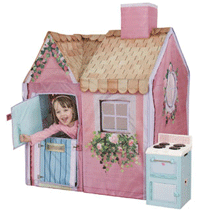 Rose Petal Cottage
Dream Town Rose Petal Cottage - This play rose petal cottage is pretty as a picture. It's pink with a blue stable-style door in 2 halves. The images of window boxes overflowing with flowers add rustic charm, as do the designs of roses growing around the window and in the eaves. The cottage comes with a model cooker made from robust, water-resistant MDF.

Kids can play inside the rose petal cottage or open it up, creating a large play area between the two halves. When playtime's over, you can store one half of the cottage inside the other to save space.

Availability Alert! Top Christmas gifts sell out quickly.
Rose Petal Cottage - A must have present?
Please ORDER NOW to avoid disappointment...


Dream Town Rose Petal Cottage - Prices


---
Dream Town Rose Petal Cottage - Awards
Winner of the Hamleys Girls will be Girls Toy Award for 2007, Rose Petal Cottage is lightweight yet strong, roomy yet wonderfully cosy, and comes in two halves that nest neatly together after play. Each piece is designed and crafted with premium materials, creating a play environment that looks beautiful in your home and that little ones will love.

Rose Petal Cottage includes a little blue play stove with knobs that turn and an oven that really opens, and can be furnished with a wide selection of the prettiest household amenities from the Dream Town Collection, including a washing machine, kitchen sink and nursery set. Give your child a home within your home with Rose Petal Cottage.

Size H115cm W100cm D100cm.



Give your little girl a place of her own, with this Rose Petal Cottage play house! The cottage has double-sided fabric walls to help little homemakers feel right at home, complete with windows, a Dutch door and chimney. When it's time to prepare meals, the stove has knobs that really turn and an oven door that opens! Includes 2 fabric cottage covers, 38 poles, 28 connector pieces, stove (6 pieces) and instructions.

Easy to store, the two halves of the cottage fit inside each other.


Beautiful fabric rose petal cottage that opens up to provide a versatile play space. Features working doors, curtains and mesh windows. Play cooker also included. Easy to store as the two halves of the cottage fit inside each other. Size: 115cm (H) x 100cm (W) x 100cm (D).
UK Christmas Gift Ideas
Remember we check prices at Argos, Asda, Littlewoods, Comet, Currys, Tesco, John Lewis, Sainsburys, Boots, HMV, Play.com, Amazon, Toys R Us, Woolworths, WH Smith, Marks & Spencer, I Want one Of Those, Mail Order Express, Firebox, Find Me A Gift and many more.

Baby Gift Ideas | 1 to 3 Year Olds | 4 to 8 Year Olds | 8 to 12 Year Olds | 12 to 14 Year Olds | 14 Years Plus