Top 10 Christmas - Gifts For Him
Not sure what to get Him for Christmas? Why not look at some of the great gift ideas at the stores below? John Lewis for that elegant gift, maybe a watch or a leather jacket. What about one of many crazy boys toys gadgets at Firebox or "I want One of Those". Whatever he likes you're bound to find the perfect gift here...
Top 10 Christmas Gift ideas



---
---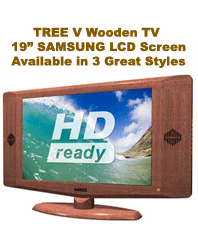 Tree V!!! Get Him This Ultra Cool Wooden LCD TV
Tree V - a new Wooden LCD TV tipped to be the rage.

This wooden framed TV is available now in the UK. With a 19 inch Samsung LCD screen. Available in 3 styles.

Picture Enhancement - None
Contrast - 1000 : 1
Sound type - NICAM stereo sound
Inputs - 1xHDMI, 1xSCART, 1xPC
Visible Screen Size - 18.9"

Tree V TV Prices >>>
---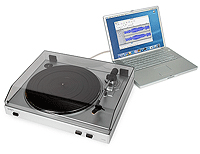 Firebox USB Turntable
Digital music is great but isn't it a pity He can't transfer his old records on to his computer? Well guess what? He can! That's right vinyl lovers, thanks to the ingenious USB Turntables he can put all his LPs, 12"s and singles straight into his very own digital library.

Simply plug either of these chic little turntables into the nearest USB port, fire up the idiot-proof (perfect) Audacity software and start converting your collection. Forget about clumsy adaptors, special drivers and mismatched software. It's easier than, er...well, it's easier than putting a record on! USB Turntable
---

Mens Watches
Why not treat him to a Tissot, Calvin Klein or D&G mens watch from John Lewis; Mens watches at John Lewis.

Take a look at this: This striking watch from D&G DW0131 has a stainless steel strap and a stunning stone set case. The silver face features a black D&G logo with crystals in the centre, and a further 12 crystals have been positioned in place of traditional numerals.

UK Christmas Gift Ideas
Remember we check prices at Argos, Asda, Littlewoods, Comet, Currys, Tesco, John Lewis, Sainsburys, Boots, HMV, Play.com, Amazon, Toys R Us, Woolworths, WH Smith, Marks & Spencer, I Want one Of Those, Mail Order Express, Firebox, Find Me A Gift and many more.