Krups Dolce Gusto Coffee Maker - UK Prices


---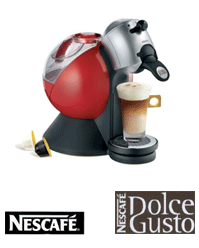 Dolce Gusto Coffee Maker
NESCAFÉ and KRUPS have joined forces to bring café culture into your home with the launch of NESCAFÉ Dolce Gusto, a stylish, multi-coffee capsule system that will change the way you make, drink and think about coffee. With four delicious varieties, whether you prefer a frothy cappuccino, shot of espresso, a multilayered latte macchiato or a rich coffee lungo, NESCAFÉ Dolcé Gusto delivers a quality coffee for every mood and occasion.

NESCAFÉ Dolce Gusto combines the precision and technical perfection expected from KRUPS with the nation's best loved coffee, to create a must-have kitchen accessory for the busy modern lifestyle. Sleek, funky and easy to use, this compact accessory comes in red, white, and black with silver detail, guaranteed to bring a touch of flair into your home.

The NESCAFÉ Dolce Gusto system from KRUPS uses the kind of high pressure normally found in professional machines. Simply pop in a specially designed capsule of 100% arabica, roast and ground coffee for great tasting connoisseur coffees in a matter of seconds. You can even choose exactly how strong you want your cup - no hassle, no mess – which means you can relax and enjoy your favourite drink in style.

What's more, every NESCAFÉ Dolce Gusto system comes with a fantastic starter kit containing a chic and contemporary white cappuccino cup and saucer, latte macchiato glass, variety pack of capsules and a quick start guide containing recipe cards and instructions.

Box Contents

FREE Welcome pack - Latte Macchiato glass, Cappuccino cup with saucer, variety pack of coffee pods and quick start guide containing recipe cards and instructions
The Krups Dolce Gusto coffee maker makes 7 delicious Nescafe drinks: cappuccino, latte macchiato, espresso, lungo, iced cappuccino, mocha and hot chocolate. All the coffee drinks are made from 100% arabica beans. The Dolce Gusto's 14 bar pressure and thermoblock heating technology ensures the perfect brewing temperature and pressure for espresso, while the capsule system keeps it easy to clean and maintain. You can even select the amount of coffee you need.

The free gift pack includes a latte macchiato glass, cappuccino cup with saucer, a variety pack of pre-filled Nescafe arabica coffee capsules, and a quick-start guide containing recipe cards and instructions.

UK Christmas Gift Ideas
Remember we check prices at Argos, Asda, Littlewoods, Comet, Currys, Tesco, John Lewis, Sainsburys, Boots, HMV, Play.com, Amazon, Toys R Us, Woolworths, WH Smith, Marks & Spencer, I Want one Of Those, Mail Order Express, Firebox, Find Me A Gift and many more.